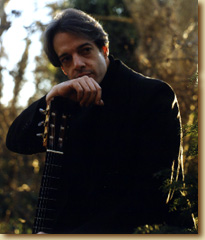 Marcos Vinicius, one of the youngest and most well known of Brasilian contemporary guitarists, began his concert career at the age of fourteen and from that moment has obtained enormous success and acclaim from the public and critics and has played in the most important cultural centres of Brasil and Europe.
At only sixteen he received an "Honorary Diploma" from the Cultural Department of Congonhas, a Brasilian city considered by Unesco to be a world historical asset and in 1984 he won, by a unanimous vote, the prestigious National Villa-Lobos Guitar Competition.
A regular performer during the concert seasons of the major Brasilian cities such as Sao Paulo, Rio de Janeiro, Belo Horizonte, Recife, Belém and Florianopolis, he has performed concerts in many countries such as Italy (Milan, Naples, Turin, Bergamo, Castellanza and Busto Arsizio), Austria (Klagenfurt, St. Veit, Feldikirchen and Spitall, where he presented an important conference entitled "Fundamental Guitar Technique" to the students of the High School of Music. In Poland he represented Brasil in the International Guitar Festival and in Milan at the University of Higher Education he held a conference entiled "Heitor Villa-Lobos, his guitar works and Brasilian Modernism".
He obtained his degree with the title of Senior University Teacher in the Classical Guitar from the Minas Gerais State University (Brasil), and he is frequently invited as lectur and concert performer by the major Brasilian Conservatories, in particular the Music Conservatory of Recife and the Music High School of the Federal University of Minas Gerais. In addition he has made numerous appearances on radio and television programmes.
He has also founded and directed the only Brasilian classical guitar magazine "Violao America" and created and directed the "Belo Horizonte Guitar Ensemble, "the most famous guitar group in Brasil".
He has performed, as guest soloist, with famous orchestras such as the "Ensemble di Milano", the "Pernambuco Symphony Orchestra", the "Minas Gerais Symphony Orchestra" and made a memorable performance of the "Concerto di Aranjuez" with the Brasilian Symphony Orchestra receiving from the Critics the prize as "Soloist of the Year 1992".
As a participant at large international guitar festivals, he received enormous critical acclaim for his performance in 1992 in the "Concerto for Classical Guitar and Jazz Piano Trio" by the french composer Claude Bolling in at the Tenth International Guitar Festival of Busto Arsizio, Italy.
In 1987, he distinguished himself as the best guitarist in the Master Classes held by Oscar Ghiglia and received for this a "Diploma of Merit" from the Chigiana Musical Academy of Siena.
In addition to an intensive activity as a concert performer and teacher, Marcos Vinicius also prepares transcriptions and revisions of classical guitar works which, in Italy, are published by Rugginenti Editore and Pongo Classica Edizioni, and are distributed in England, France, Holland, Spain, Portugal and U.S.A.
At present he is responsabile for the Advanced Course of Classical Guitar for the Jubilate Musical Association of Legnano, Italy.
President of the Classical Guitar Academy of Milan.

CRITIC'S
COMMENTS


---
"capable of a rare perfection"
Targstung Journal - Austria
"very natural, intelligent and warm musician"
Oscar Ghiglia - Chigiana Musical Academy of Siena
"great sensibility and the highest technical level"
Jorg Sumemmeier - President of the International Guitar Association - Germany
"Marcos Vinicius, a virtuoso of the guitar who seems...Lizt"
The Eco of Bergamo - Italy
"...the capacity of showing not only the technical bravura as a guitarist, but in particular the poetical sound hidden in this beautiful instrument."
Riccardo Chailly
"...with compliments for sensibility and great performance."
Joaquín Rodrigo





---



---



DEDICATORIA
the new CD by Marcos Vinicius
Works by
Souza, Sanz, Praetorius, Colombo, Kellner, Annes, Granados, Tesar, Borges,
Brouwer, Sainz de la Maza, Gnatalli, Rodrigo
informations:
Pongo Classica Musica
tel. +39 331 833019 - fax +39 331 833645
RELATIVE LINKS
---


TRANSCRIPTION AND REVISIONS FOR GUITAR
by Marcos Vinicius
Edited by Rugginenti Editore
AUTHOR
OPERA
CODE
PRICE
Antonio Soler
Sonata in Re Minore
(for Guitar Duo)
RE2020
US $ 8.00
Luis de Narváez
Ya Se Asienta el rey Ramiro - Diferencias
RE50490
US $ 8.00
Bruno de Souza
Introduzione e Milonga
RE50491
US $ 8.00
Paolo Colombo
Tres Carmina
RE50494
US $ 8.00
Julio Borges
Valzer n. 1 e 2
RE50730
US $ 8.00
Michael Praetorius
Ballet e Courante
RE50729
US $ 8.00
E. Granados
Dedicatoria
from "Cuentos de la Juventud, op. 1"
RE50516
US $ 8.00
C. Tupinamba
Around the Fire
for guitar
RE50517
US $ 10.00
Marcos Vinicius
L'Arte della Tecnica Cosciente
(italian test)
PCL010
US $ 15.00